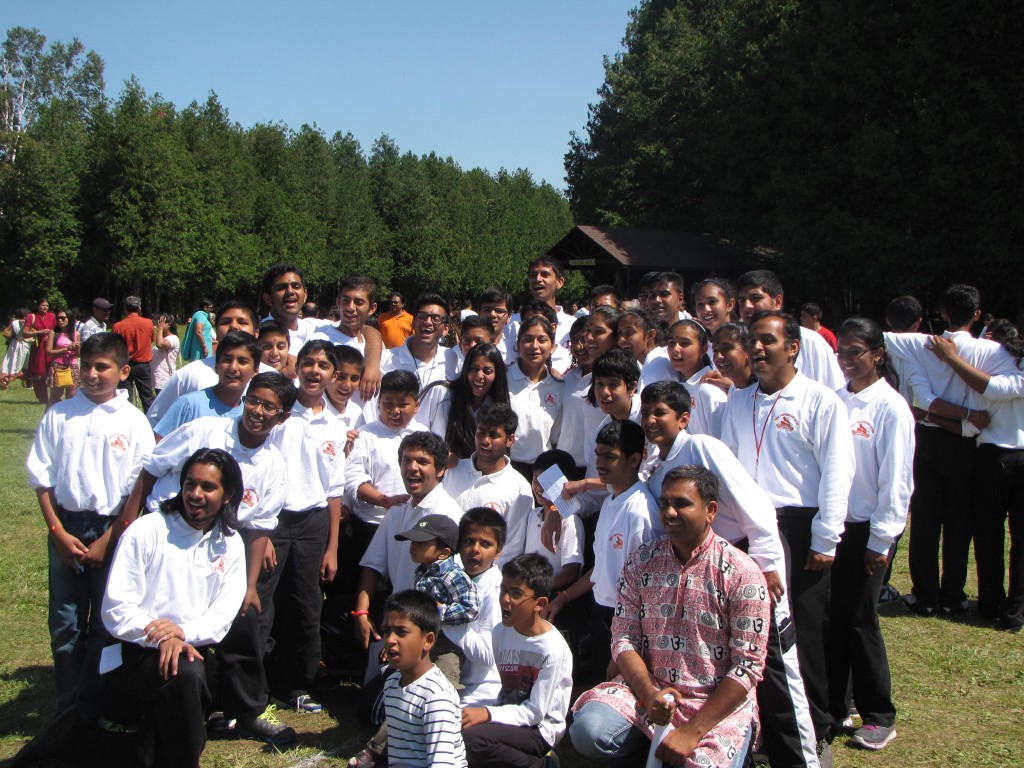 HSS Canada (a registered charity in Canada) is conducting their 17th Annual Hindu Summer Camp for Teenagers – Developing leadership in our next generation.
When : August 23rd 2015 – August 30th 2015. 7 day overnight camp.
Where : Scouts Canada Campgrounds – Blue Springs Camp, near Acton, ON.
Who : Attendees of HSS Canada's weekly programs from all over Canada, aged 13 and over. Boys and Girls who are not part of our weekly programs can apply too. However they will have to go through a short orientation and screening process. This is to ensure they fit into the Camp's demanding regimen and bring their positive attitude to the camp.
What to bring: List of items required will be sent out to all campers once application and orientation is complete. For sure – bring Positive Attitude, Enthusiasm and No complaining mind!!!
Directions from London : Driving Time from London is 1 hour 40 minutes.
• 401 East towards Toronto. At Milton – take exit for Hwy 25.
• Go North on Hwy 25 (left turn after the exit) for 14 km. Slow down when passing Garden Centre on right.
• Follow sign for Blue Springs Camp, turn left on Regional Road 12 (known as 25 Side Road, Halton Hills)
• Go 4 km, turn right on Sixth Line Nassagaweya, go for 3 km to the camp on your right, 14009 Sixth Line, Nassagaweya.
Details of Camp (See description below of  camp from 2014)
For registration – Download the application form HSSCamp2015
Report from 2014 Camp
Approximately 50 teenagers and 20 children (from ages 8 to age 12), from all over Ontario & Quebec attended the 7 day overnight camp at the above venue. From London, ON, 7 teenagers attended this camp. At this camp, with an aim to develop leadership skills  & discipline in our next generation – teenagers go through a whole slew of activities from 5:30 a.m through 10:30 p.m comprising the following activities, for 7 days
Group activities – Games, Sports & drills.
Martial Arts, Yoga, Prarthana & Reflection.
Hindu Philosophy – Discourses & Debates.
Campfire, Camp duties & Talent Shows.
Making new friends from all over Ontario & Quebec.
Campers are provided with safe and healthy lodging at the Scouts Canada Campsite. They are attended upon and supervised by trained Sevaks and Sevikas of HSS all through their stay at the camp. HSS sevaks and sevikas serve them plenty of food and snacks which includes vegetarian (only) food,healthy snacks, milk, fruits etc. The children learned about their heritage in an hands-on environment, learned to take responsibilities, wake up at 5:00am to be ready for activities in time (punctuality), follow a set routine,  most importantly all of them realized they could survive (in fact even do well) without internet, social media, iPod and computers for a week. All this while they also had fun, made new friends and learned to work as a team throughout the camp.
Over the years we have noticed how quickly and well some of these friendships and bonding have grown, despite being in different parts of the province or country.
On the last day of the camp, parents were invited to the camp to witness presentations and graduation of the campers. After lunch and loads of group pictures campers reluctantly (some in tears) dispersed to their own cities, promising to keep in touch and for sure return in 2015.