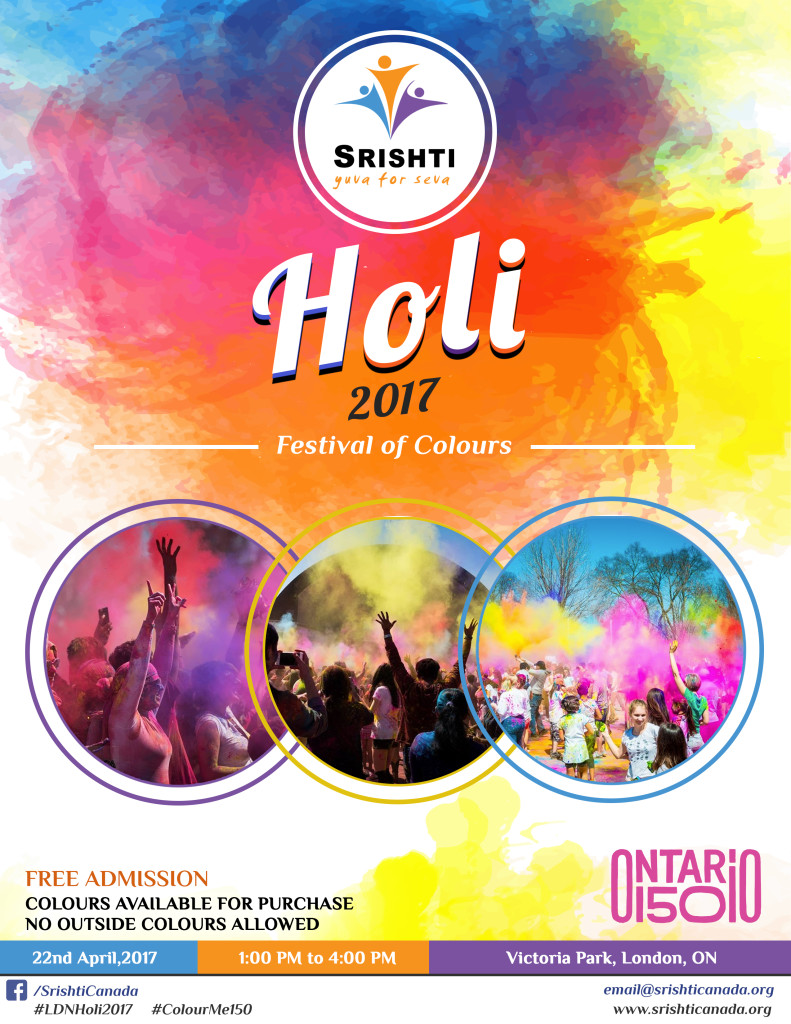 HOLI 2017 – Festival of Colours
April 22nd 2017, Saturday ; Time: 1:00pm to 4:00pm
Victoria Park, London, ON. MAP
for your convenience & to ensure your Colours are reserved, no matter when you arrive or if we run out of colours.
HOLI,  the ancient Hindu Festival of Colours marks the onset of spring, the blooming of colours in mother nature and signifies unity in diversity.
Though the actual festival falls in March this year, the celebrations in London will be on April 22nd, to facilitate the outdoor celebration in warmer weather.
HOLI celebrations in a "Riot of Colours" will comprise three hours of unlimited fun, music, and dancing with over 1000 Kgs of colours. The event will comprise –
"

Riot

of

Colours

" colouring London with colours of life and nature.
Synchronized colour throws.
High Energy Entertainment Program.
Live performances & Lots of dancing.
" Unity in Diversity" Hand Print Wall celebrating Ontario's 150th Anniversary.
Traditional Ganesh Puja to kick start celebrations.
Delicious Indian Cuisine.
EVERYONE IS WELCOME!*FREE ENTRY*
Natural Corn Starch colours will be available at nominal cost.
CLICK HERE

to Pre-Order your colours
*OUTSIDE COLOURS STRICTLY NOT PERMITTED*
for security, safety, and quality control reasons and will be strictly enforced.