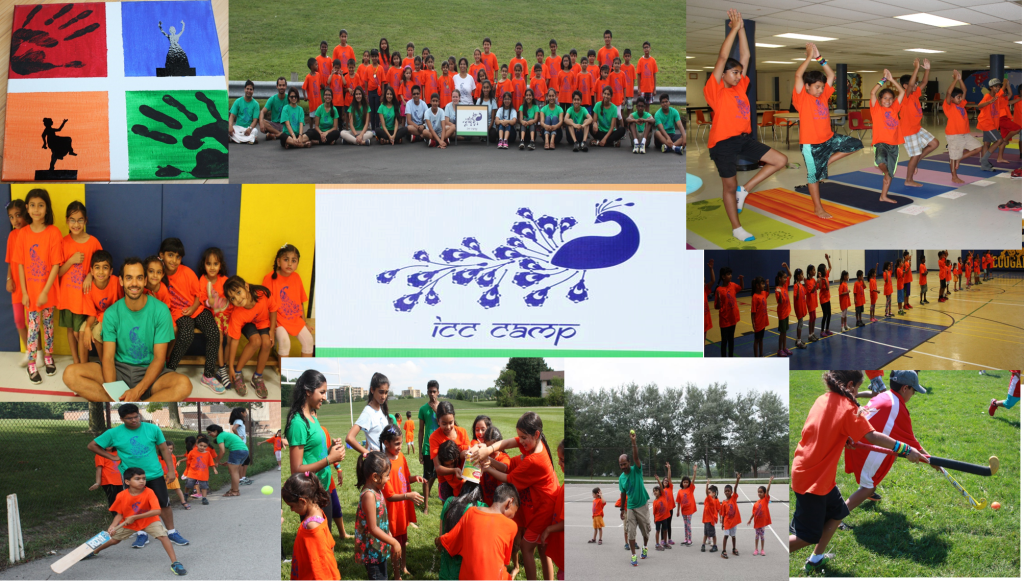 Where: Central Secondary School
When: 14th August 2017 to 18th August 2017, 9:00 am to 4:00 pm
Who:  Children Age 5 to Age 12
******THIS CAMP  IS NOW FULL & REGISTRATION IS CLOSED *******
Registration is well underway for India Cultural Connection camp 2017! The dates this year are the second week of August – Monday 14 August to Friday 18 August from 9:00am to 4:00pm at Central Secondary School on Waterloo and Dufferin.
Yoga, Field hockey, crafts, cheers, dances and hot lunches are back for this year!
Our theme last year was Perfect 10, chosen since it was the Tenth Anniversary of ICC camp.  We can hardly believe that 10 years have gone by.  When we first began the camp, it was because we sensed a need to enable children an exposure to some of the things that they may get the opportunity to see and feel due to living outside of India.  It also gave an opportunity to connect with the community here.  Not only are the campers from the community but so are the counsellors.  We have heard many wonderful things about how the camp has impacted campers and counsellors alike as we travelled the years.
Through all of our activities of each of our days, we wove our theme of Perfect Ten.  We danced to songs about ten, we practiced 10 yoga poses. We crafted camper favourites from the past ten years and played games that campers told us they liked best over the years.  Field hockey has been part of the camp for many years as has been Kalaripayattu. Both were well enjoyed again this year as they have been for many years.
Cooking was again included this year and the campers loved the hands on.
The Camp Coordinator baton has been passed to Gurpreet Kaur and Jaya Tiwari who will be running the camp this year.  They are wonderfully enthusiastic ladies and I'm delighted that they are taking this on.
We have many more engaging activities planned for this year's camp. We look forward to seeing all of you again and getting to know some new faces by submitting the attached registration form.  Of course, feel free to contact us through email at
indiaculturalconnection@hotmail.com
or by telephone.  Registration fees and completed forms may be mailed to 235 Ambleside Dr, London, Ontario, N6G 4P4.
To register for the 2017 summer camp download ICC Camp Registration
To become a counsellor at the 2017 summer camp download ICC Camp Counsellor Registration.
Many more activities and fun are in the lineup this year!  Submit your registration electronically before July 1st to ensure a spot!
Sincerely,
Vandana Nagpal-Shah 519-857-3653
Gurpreet Kaur 226-235-4287
Jaya Tiwari 226-700-6621