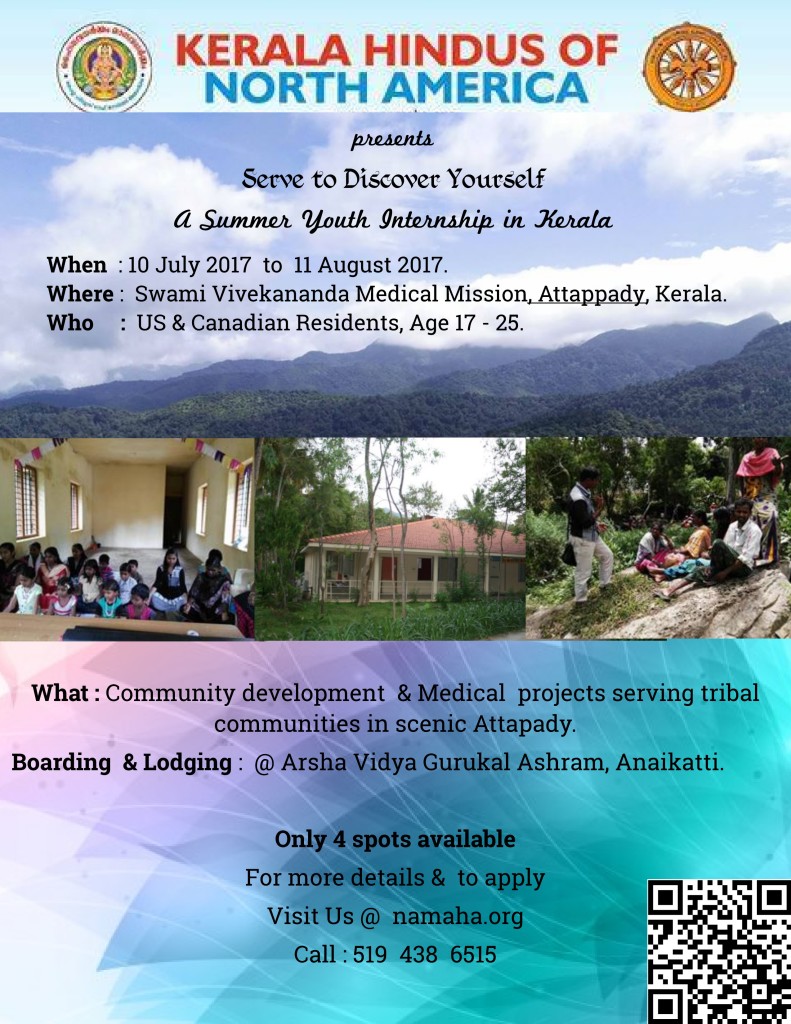 UPDATE: June 15th 2017
ROHAN HARIKUMAR from Toronto, 3rd year Medical Sciences Student @ University of Toronto is currently serving on this Internship, in  Kerala, Bharat (India). His internship concludes on July 18th 2017.
Srishti Foundation in collaboration with Kerala Hindus of North America presents "Serve & Discover Yourself " in Kerala and Tamil Nadu
This internship in partnership with
Swami Vivekananda Medical Mission
(SVMM) provides an opportunity for youth to serve Bharat (India) and connect with its people and land. This is an unpaid summer internship and offers opportunity to youth and young adults to contribute their time to a larger movement of serving humanity, while engaging in self-development. Interns spend the duration of their internship working with NGOs in the community. They seek to serve and engage in a transformative experience that empowers them, as they strive to make an impact in their chosen field.
The interns joining this Internship program will join the SVMM community development team and will make vital contributions to the mission's effort in making a difference to the lives of tribal people in Attappady. They will be assisted and mentored by existing team of Coordinators and activists.
Those interested are requested to
REGISTER HERE
to fill up a questionnaire and apply for the internship.
We will communicate with you on receipt of your application and the selection process for the 4 available internship positions.
When : 10th July 2017 to 11th August 2017.
How to get there: By road 1 hour West from Coimbatore Airport or 4 hours by road from Kochi Airport.
Who can apply:
1. Youth (17 + years old) or Young Adults.
2. Be able to participate for the full duration of the internship program.
3. Be a resident of USA or Canada.
4. Possess strong enthusiasm to make a difference and willingness to serve.
5. Be able to adapt well to situations, a new environment and people.
6. Be respectful of local communities, their language, culture & traditions
7. Comprehension or Speaking skills in Malayalam or Tamil is preferred, but NOT mandatory.
Cost : approximately US$ 400 (includes boarding, lodging and local transportation). Interns pay for their own passage to Kerala & back.
Application deadline : Apply before March 31st 2017.