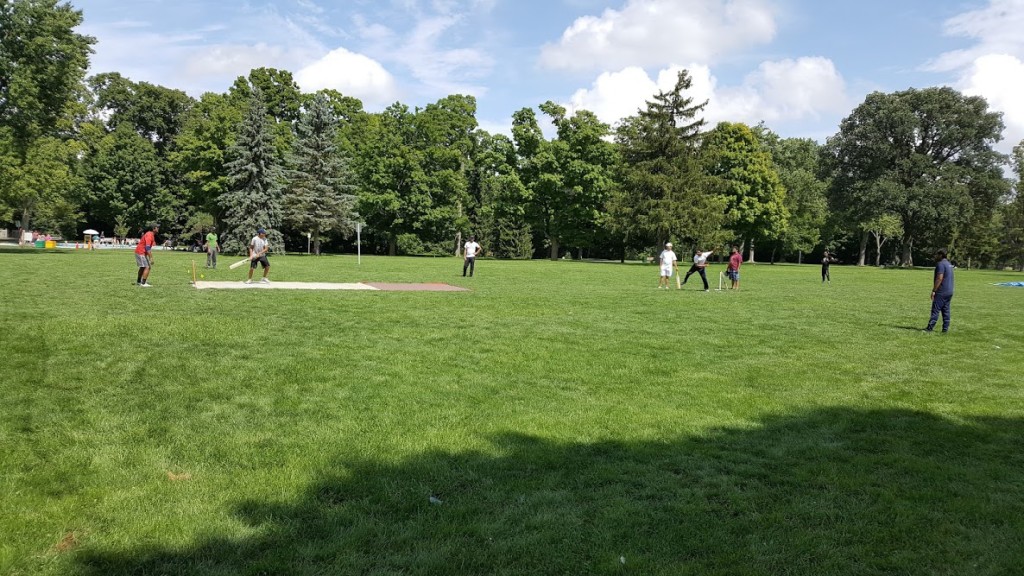 More Pictures of Cricket Dhamaka 2016
For a 4th year in a row – Srishti presented Cricket Dhamaka for the SRISHTI Cup on August 28, 2016.
The games were played on two pitches readied for this purpose at the Springbank Park. The games progressed through the day with the finals played at 4:00pm. Initially there were 7 teams that registered, but due to the bad weather that was forecasted only 4 teams showed up. Fortunately, despite the forecast calling for rain, it turned out to be a beautiful day, with no rains and a beautiful day for cricket.
The 4 teams played each other is round robin system in 10 over games. The two teams with the most points then played the finals. The teams that participates were 6 Goblins & a Bachelor, The Lahore Lions, Gujarati Culture of St. Thomas team, Free Agents team.
All of the matches were exciting and most of the matches had close finishes. Each team had 10 overs to bat and bowl in each game. There were a shower of sixes and fours at each game and scores ranged from anywhere from 50 to 140 runs.
The final game was between 6 Goblins & a Bachelor (6G&B) and the Lahore Lions. The final was very exciting and had a very close finish with teh Lahore Lions chasing a big total and then falling short of it at the last ball by 2 runs. 6G&B won the Srishti Cup, with some of the team members being in the winning team for the last 4 years. Congratulations for the winners and all the teams who participated and had fun playing cricket the whole day.
We also had talented team of commentators who kept the excitement going with creative commentary on the game in many different common accents you would hear during cricket matches around the world.
Refreshments and savoury Indian food was in plenty always and appreciated by everyone who attended.
We would like to thank everyone who participated, volunteered many hours of effort to pull this event off.