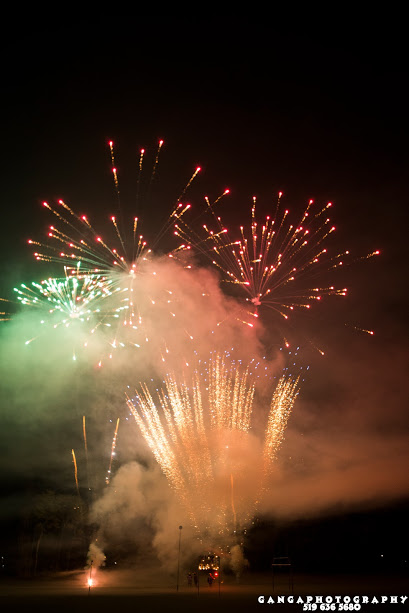 Diwali Dhamaka 2016 in pictures – CLICK HERE
Diwali or Deepavali, the ancient Festival of Lights is one of the biggest Dharmic festivals and marks the return of Sri Rama (Joy) to Ayodhya (our mind), "Bandhi Chorr" Divas and Nirvana of Mahaveera. It signifies the victory of good over evil, the removal of ignorance, new beginnings, return of joy, giving and the fact that like the row of lamps lit on Diwali from the one/same light source, all of us are essentially the same lit by the same source.
On 5th November 2016, a sold out capacity of 950 people attended the biggest Diwali celebration in South West Ontario with professional fireworks, high energy entertainment comprising community and professional performers, savoury cuisine, the traditional symbols of Diwali, starting off with Lakshmi Puja at 4:30pm and ending with lighting up the skies over London in an impressive display of fireworks.
Among the highlights of this year's celebrations was
Zero wait time in queues for dining. This was achieved with a staggered dining plan that attendees could choose from online and four dining stations to be served from.
A 20 ft x 10 ft LED wall centre stage in the auditorium changed and enhanced the quality of the entertainment segment.
The Entertainment program was made to fit the theme of "India 360" with a balance of the various art forms and every effort to represent the various regions, traditions and languages of India.
95% of our ticket sales were bought online which makes it convenient for attendees and organizers
This year Diwali Dhamaka brought home the theme of "India 360", as we incorporated a 360 degree view of India – its art forms, its varying forms of  Diwali, its diverse languages, its many traditions, its vibrant forms of wedding  as we sampled it all from North to South and East to West. "Nruta Samyogita" professional dance troupe from Toronto presented for the first time in London – a Jugalbandi of Odissi, Bharatanatyam and Mohiniattam. This act was appreciated by many in the audience for its elegance, grace, and sophistication.
As always  the Bollywood 360 segment (with a mix of Telugu, Tamil, Hindi, Punjabi and Marathi) burnt the dance floor this year too, with an overcrowded dance floor.
The event had the youth roaring in the dance floor when 3 young singers sang in 4 different languages that included Sia's cheap thrills.
We also had activities for children before the entertainment segment, that kept the children and adults entertained/engaged between 5pm and 7pm
After the entertainment program, professional fireworks by K&H (one of the leading fireworks companies in Ontario) lit up the skies over South London.
This event is highly subsidized event for all the value and high quality of programming it provides and would not have been possible without the support of our sponsors. We wish to express our gratitude to  our sponsors who are listed below
Thanks to our Sponsors
Gold Sponsors
RBC Dominion Securities – Asheesh Mudgil
Medtech Group – Karen Singh
Silver Sponsors
All State Insurance – Anil Arora
CIBC  – Joy Dass & Ramanjit Boparoy
Bronze Sponsors
LondonTechJobs.ca
TD  Bank – Santhi Varanasi
Sewa Canada International