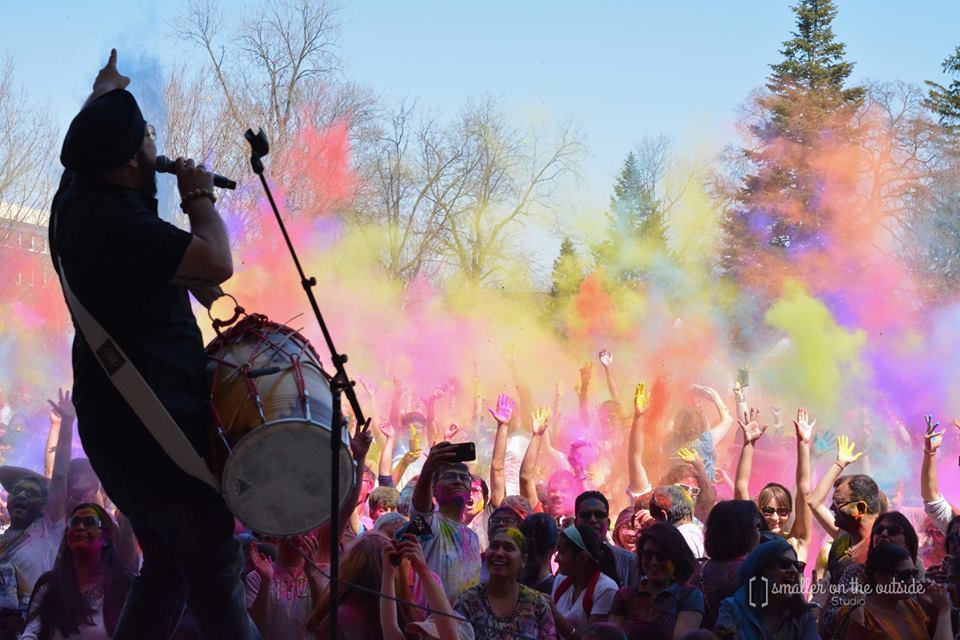 Picture courtesy : Smaller on the outside studio, Life Photography, Kalidescope Creations & Dev R Sainani Photography
April 16th 2016, Saturday 1:00pm to 4:00pm. 
Victoria Park, London, ON. MAP
As the colours of nature returned this Spring, 2500 to 3000 people joined together is a Riot of Colours, to celebrate the ancient Hindu festival of colours – HOLI, dancing to the sound of Dholis, high voltage Drummers, Hanuman Chalisa, Bhangra and  Bollywood dancing.
People of different ethnicity danced, played with colours with synchronized colour throws and dancing under perfect weather conditions at Victoria Park, in downtown London. It was an ocean of youthful energy, love, life and happiness with attendees dancing in an explosion of colours.
The event was kicked off at 1:00pm in a traditional way with a Ganesh Puja, performed by Pandit Tiwari of the Hindu Mandir in London, ON and blessed by Spencer Delisle of Art of Living Foundation. He  later addressed the audience & conveyed the message and significance of Holi to the audience. From there on, the high energy entertainment program raised the energy of the crowd. Our community youth community performers and our feature performer – "Dholi Tanveer" brought the crowd to  its feet. The synchronized colour throwing was a huge draw turning the venue into an explosion of colours.
We would like to thank all of the attendees and volunteers who helped make this event a great success. The event would not have been possible without the hard work put in by our own army of volunteers @ Srishti
Food vendors Taal Restaurant from Brantford & Saravana Bhavan from Mississauga provided a choice of savoury food at the venue.