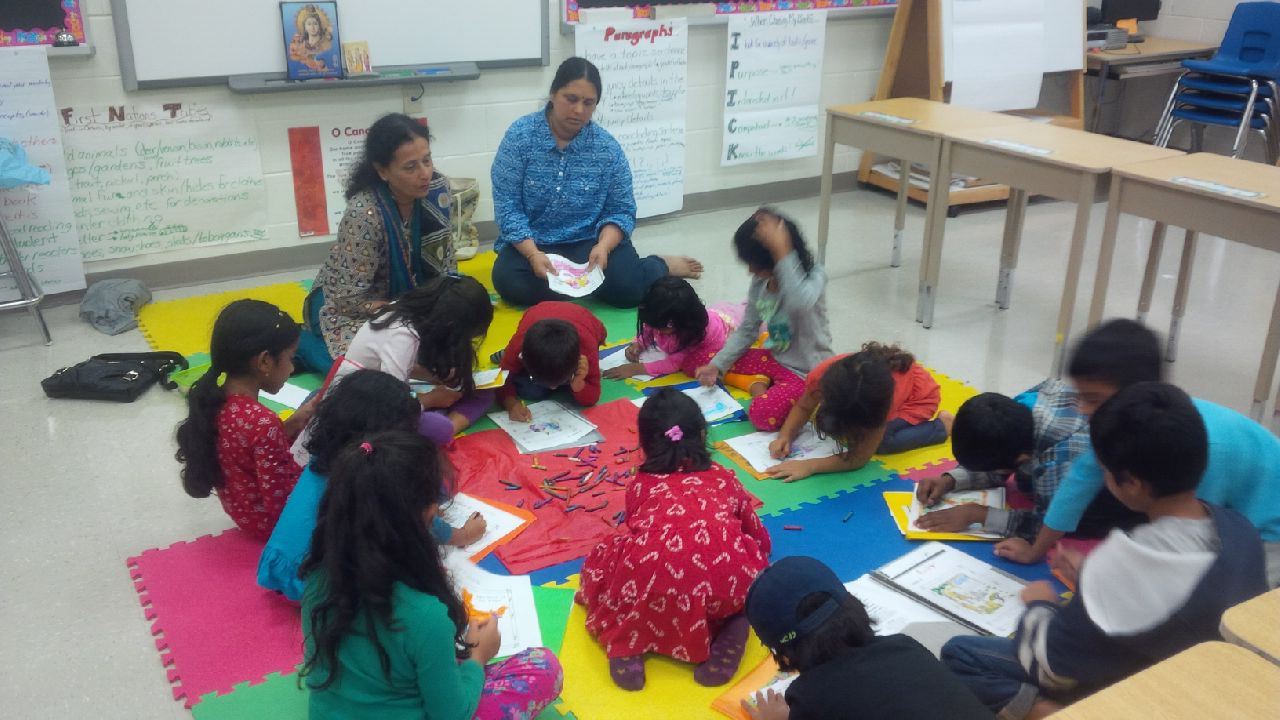 The most pertinent question to ask ourselves is while there are courses and schools to obtain every other kind of external knowledge, how many of them teach us about ourselves, our mind, to prepare our mind, to be unconditionally happy and to inspire ourselves into fearless action (empathy) ? How can we pass on the time tested, wisdom, traditions, art forms and knowledge systems of our ancient civilization, which do all of the above, to the next generation? Each of our not for profit partners – Art of Living, Chinmaya Mission, HSS Canada, ICC and IMPACT, with their respective areas of focus,expertise and experience makes this happen. Details of activities and events
Upcoming Summer Camps for children and teenagers in 2017
 ICC camp (Age 5 to 12)
Hindu Youth Leadership Camp (Age 13 and above)
HSS Guru Purnima Camp (Age 8 to 18)
Contact US for more details
More about our Not for Profit Cultural Education Partners and activities in London –
Chinmaya Mission has been teaching Vedanta to children, since the 1950s, through its Balavihar program, in the Guru-Shishya tradition in a Gurukul setting. Approximately 15,000 children in North America only, attend this program every week, among 300 centres worldwide. In London, Chinmaya Balavihar commenced in 2011 and very Sunday children from age 4 to age 17 learn from a structured syllabus and textbooks, with emphasis on its practical application (learning life skills) in daily life while having fun i.e. self development. The parents of children study the Bhagavad Gita in the Adults' class, under the guidance of Acharya Vivek Gupta. This Vedic education with self-development as its main focus, as per tradition is provided free of charge. At the end of the year, students have a voluntary opportunity to offer Gurudakshina out of respect and in return for the sacrifices made by the teacher. For details regarding venue & timings please click HERE.
The  Art of Living Foundation (AOL) is a non-profit, educational and humanitarian organization founded in 1981 by the world-renown philanthropist and spiritual leader Sri Sri Ravi Shankar. All of AOLF's programs are guided by Sri Sri's philosophy: "Unless we have a stress-free mind and a violence-free society, we cannot achieve world peace." Art of Living's London chapter offers free yoga and meditation classes every week, yoga in the park, and workshops on Art of Silence, Sudarshan Kriya, Art of Meditation, Satsangas, workshops children, teenagers  and youth i.e self- development tools that helps relieve stress and grow. Click HERE for details regarding weekly activities.
Hindu Swayamsevak Sangh (HSS) Canada runs youth development activities every Friday, comprising yoga, meditation, games & public speaking. HSS has also been running an annual summer camp for teenagers for the last 15 years in Canada. Th focus of HSS's activities is to develop leadership qualities, pride in one's roots and develop volunteer-ism in our next generation. Click on weekly activities and summer camp for more details, regarding HSS activities. Weekly activities are offered free of charge. Following our traditions however, students are offered a voluntary opportunity to offer Gurudakshina once a year.
India Cultural Connection (ICC)  has been giving children of ages 5 to 12 years, an experience of India, every summer. In its tenth year since its inception, in London, children experience and absorb the arts, craft, traditions, history, its people, yoga, festivals, culture and sports of India. Over the last nine years, the ICC camp has also drawn on teenagers and youth in  the community to be counsellors at the camp. This has provided our next generation with opportunities to take responsibility and develop leadership skills, each year. For information regarding this year's camp click HERE.