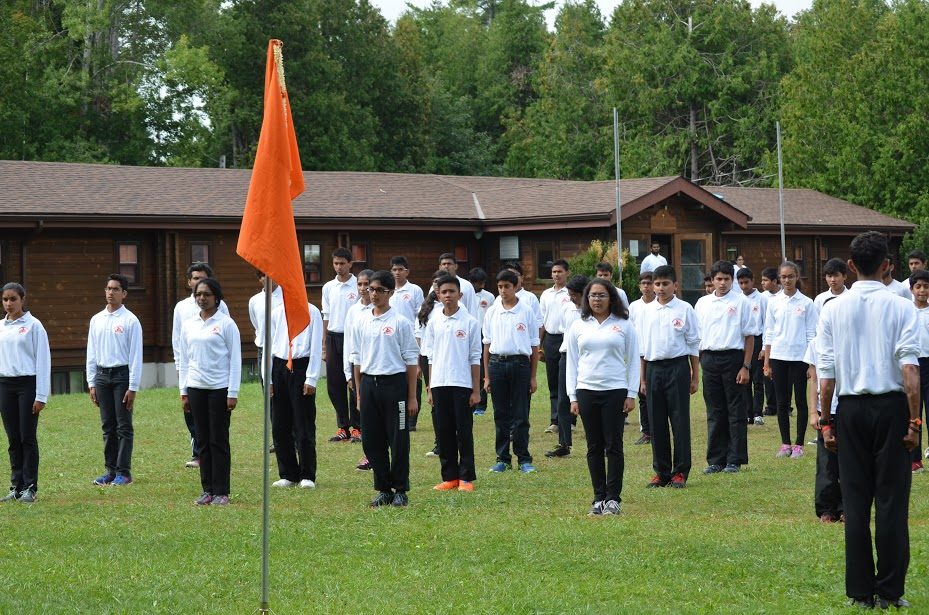 HSS Canada (a registered charity in Canada) conducted 17th Annual Hindu Summer Camp for Teenagers – Developing leadership in our next generation, from August 23rd 2015 – August 30th 2015, a 7 day overnight camp.
The camp was held at Scouts Canada Campgrounds – Blue Springs Camp, near Acton, ON.
Approximately 70 teenagers and children, from all over Ontario & Quebec attended the 7 day overnight camp at the above venue. From London, ON, 12 teenagers attended this camp. Teenagers went through a whole slew of activities from 5:30 a.m through 10:30 p.m comprising the following activities, for 7 days
Group activities – Games, Sports & drills.
Martial Arts, Yoga, Prarthana & Reflection.
Hindu Philosophy – Discourses & Debates.
Campfire, Camp duties & Talent Shows.
Campers were provided with safe and healthy lodging at the Scouts Canada Campsite. They were attended upon and supervised by trained Sevaks and Sevikas of HSS all through their stay at the camp. HSS sevaks and sevikas served them plenty of food and snacks which includes vegetarian (only) food,healthy snacks, milk, fruits etc. The children learned about their heritage in an hands-on environment, learned to take responsibilities, wake up at 5:00am to be ready for activities in time (punctuality), follow a set routine,  most importantly all of them realized they could survive (in fact even do well) without internet, social media, iPod and computers for a week. All this while they also had fun, made new friends and learned to work as a team throughout the camp.
Over the years we have noticed that this camp is trans-formative for many of the attendees and their growth and leadership is really seen on the ground at our weekly sessions through the year.
On the last day of the camp, parents were invited to the camp to witness presentations and graduation of the campers.