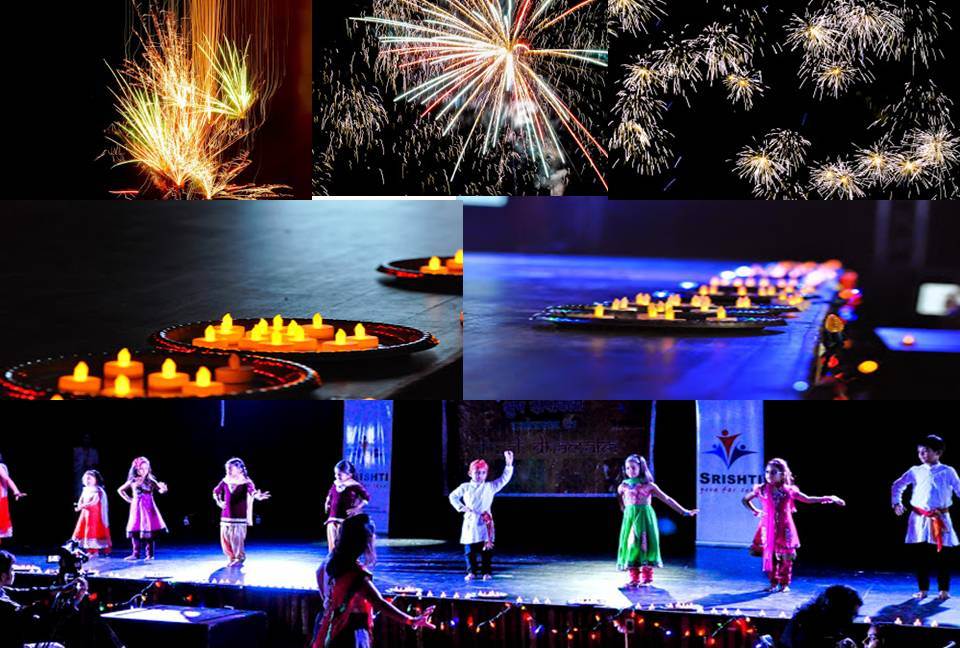 The Dhamaka of the year – Diwali Dhamaka celebrating the ancient festival of lights, Deepavali, also called Diwali was celebrated at Saunders Secondary School on November 1st, 2014. The event was sold out a week prior and attended by record number of 775 attendees. The event brought in people of different communities and ethnicity, to a celebration of Vasudeva Kutumbakam (the whole world is one family).
The event started with the traditional Lakshmi Puja led by Pandit Durgeshwar Tiwari ji at 4:30 pm. Dinner was served in the cafeteria at 5:00 pm. Activities for children, a photo booth, Mehndi by Maggie and DJ Dance Masti kept the attendees on their toes until the start of the entertainment program.
The entertainment segment commenced on time at  7:00pm.  The entertainment segment involved performers and art forms from every part of India, including Mohiniattam from Kerala (first time ever in London), Kuchipudi, Bharatanatyam, Bhangra, Koothu from Tamil Nadu etc and a mix of traditional, folk, classical and bollywood performances. As is always the case @ Dhamaka,  the  audience were on their feet too, including many young children..
At 9 :15 pm, a stunning display of professional fireworks at the adjacent Westmount Park, supervised by K&H fireworks,  lit up the south London sky for the next 15 minutes.
This  event would not have been possible without the support of so many volunteers, youth, participants, the attendees and our sponsors. Thank you all for helping us bring yet another Dhamaka-er Diwali to London
THANKS TO OUR SPONSORS