Pictures from Sewa International's Relief work in Nepal including that of our volunteer from Canada

" Nepal Earthquake Relief "
@ SRISHTI, our ties with the Nepali speaking people in Canada, has formed the foundation of our seva (selfless service) in the community. We have been working with Sewa Canada International (our long time Charity partner and a registered charity in Canada) to serve Nepal.
Latest Updates –  Reconstruction Phase Begins
Following reconstruction and rehabilitation work by Sewa International has already started on the ground –
Distribution of  Books, School Materials and School Bags for thousands of returning to school in quale effected areas of Nepal – Completed.
Building 6 Residential School for Orphan Children 'Aama Ko Maya Chhatravas'  to provide them with food, shelter, education and knowledge of their heritage.
Build 4 full-fledged Schools in effected areas
Rebuild destroyed Hindu/Budhhist Temples in coordination with the local committees and communities in affected areas.
Building of community centres in effected areas.
Of these Sewa Canada is committed to building one of the Residential Schools for Orphan Children in Nepal. Watch this page for videos, Floor Plans, the location, the Project plan, the cost assessment for this Residential School and how you can help, coming by September 10th 2015. The required budget is expected to be CAD $ 60,000. We have already raised half of the required funds to help kick start the work and hope to launch a series of fundraisers across Ontario to raise the remaining funds and complete construction.
Rescue & Relief work undertaken in Nepal since April 2015
We have also been working with Nepali Canadians (NRN-CANADA) to create awareness of the situation. Helped organize a Candlelight Vigil and other joint events. More are planned.
The relief provided by 1600 of our Sewa International's volunteers working round the clock in difficult circumstances in many remote locations as of 26th May 2015, to victims of earthquake in districts of Kathmandu, Bhaktapur, Dhading, Kabhrepalanchok, Lalitpur, Nuwakot, Rasuwa, Ramechhap, Sindhupalchok, Dolakha, Khotang, Okhaldhunga, Makawanpur, Sindhuli, Chitwan, Syangja & Gulmi is captured below –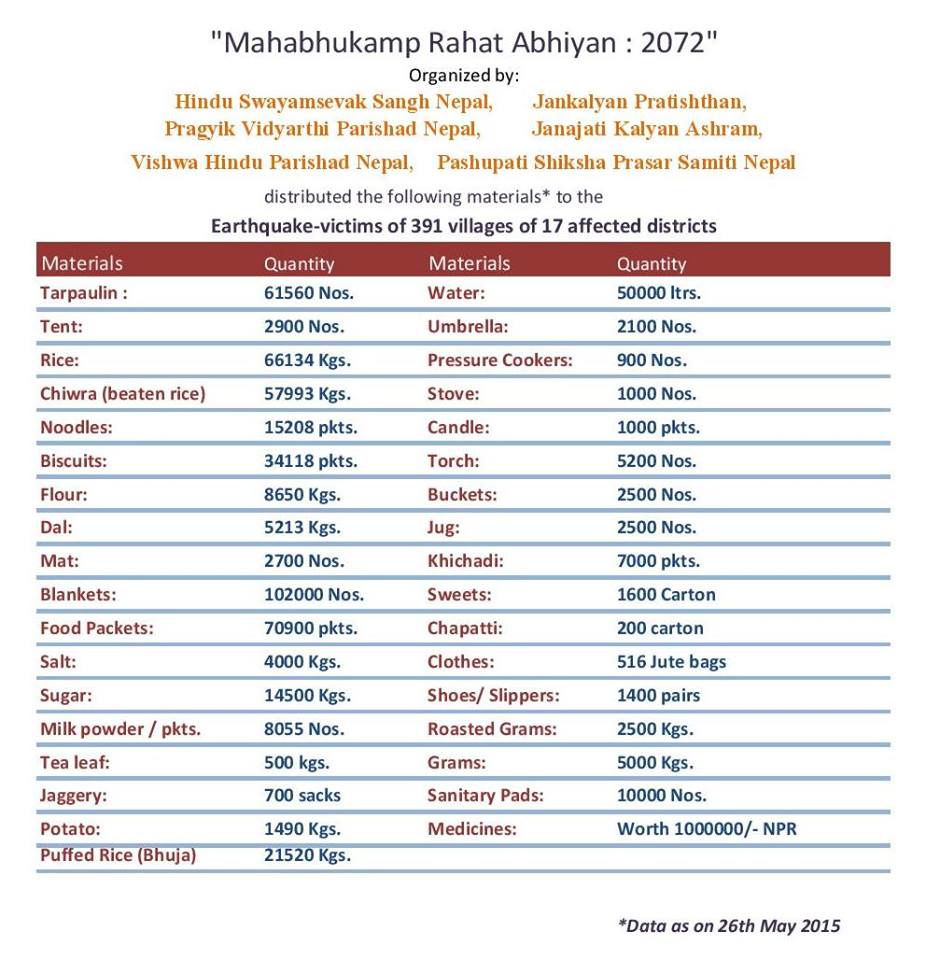 Sewa Canada International is a registered charity in Canada, with a clean track record of 25 years of serving the world. Your contribution through Sewa Canada International, will go the furthest in this relief work because –
Sewa Canada International's overhead is less than 5%. We have no paid employees or paid volunteers
Sewa International has its own inspired local Nepalese volunteers on the ground, who have dedicated their entire lives to selfless community service, living on the grace of communities, with no salaries – hence keeping project costs/overheads to the minimum.
Sewa International and its Nepalese volunteers are in this for the long haul, because this their own sacred land of Gautam Buddha and Bhagwan Pashupatinath ji.
Tax receipts will be issued to all donors.
Regular updates and reports will be presented to donors.
THE APPEAL
We appeal to all of you to please GIVE GENEROUSLY – either ONLINE (all online donations unless otherwise specified, are being directed to serving Nepal) or by mailing a cheque in favour of "Sewa Canada International". Please specify "Nepal Earthquake Relief" on your cheque or letter.
Your donations to Sewa Canada International will be wire transferred to Sewa International in Nepal, as per Canadian Revenue Agency regulations and oversight, accounting for every dollar raised and transferred.
Your donations will help sustain the ongoing work and this will help towards the massive task of rebuilding homes, schools, temples, entire villages and basic infrastructure.
Cheques may be mailed to :
Sewa Canada International Aid Inc.
P.O. Box 76621
1661 Denison Street
Markham – ON , L3R 0N5


Phone – 416 516 2262