Sewa Canada International & Srishti volunteer Vinod Varapravan visited/served Earthquake stricken Nepal, in May 2015. His experience from Ground Zero with Sewa International Nepal.
The earth hasn't stopped trembling in Nepal since 11:56am on April 25th 2015. Apart from the 2 major earthquakes, there are one or more tremors of varying intensity almost every day. Welcome to daily life in Nepal since April 25th 2015.
As our Air India plane makes a bumpy descent into the clouds and emerges from under it into the Kathmandu Valley surrounded by mountain ranges, the beauty of this ancient land is strikingly breathtaking. As we descend lower, the first signs of the devastation caused by the recent earthquake and its after effects begin to be visible. The hillsides and the city are pockmarked with yellow and blue tents in open spaces, crumbled homes and there are fresh scars of landslides on the hills. On the tarmac at the airport, there are cargo planes, relief material and aid agencies at the airport unloading and transporting relief materials into Kathmandu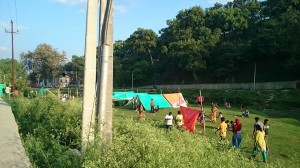 As we make our way through the city, we get a closer glimpse of crumbled buildings, debris and the tents that serve as temporary homes for many of Kathmandu's residents. The Golf Course near the airport is now home to a tent city. Most of the buildings are still standing, but I am told (and I later saw for myself)  many of those standing were too dangerous for their residents to stay in them. In fact the second earthquake flattened some of them. Due to the continuing tremors and quakes – many people prefer to sleep either in tents or in the ground floor of their dwellings.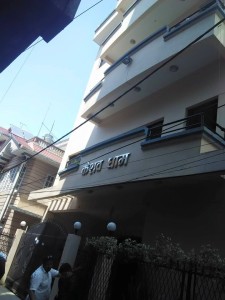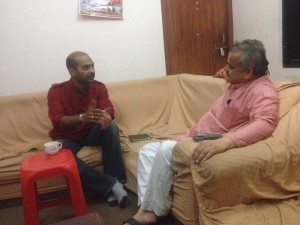 Keshav Dham, is the 5 storey high Karyalaya (office) of the Hindu Swayamsevak Sangh Nepal (HSS Nepal), located in the Gaurighat area of Kathmandu, a short ride from the airport. It has been at the centre of Sewa International's relief and aid effort in Nepal. It has been the command and control centre for activities of 1600 of its Nepali Swayamsevaks (volunteers), since April 25th. It also serves as R & R centre for its volunteers. The building withstood both of the earthquakes and tremors (including a few when I was in it) successfully – thanks to the extra care taken by HSS Nepal in its good quality construction.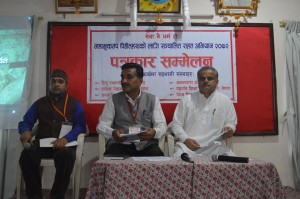 Keshav Dham, is from where all of the planning and coordination of relief activities takes place under the guidance of HSS Nepal Pracharks – Ved Prakash ji, Murali ji , Ravit ji & Bhuvan ji and Sewa International. 
There are 1600 Nepali Swayamsevaks or volunteers drawn from six different Hindu organizations in Nepal serving on the ground –
Hindu Swayamsevak Sangh, Nepal
Jan Kalyan Pratisthan, Nepal
Pragyaik Vidhyarthi Parishad, Nepal
Jan Jati Kalyan Ashram, Nepal.
Pashupati Siksha Prachar Samiti, Nepal
Vishwa Hindu Parishad,Nepal.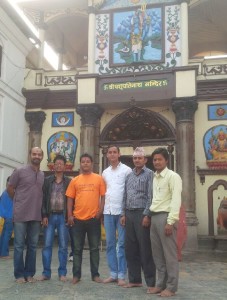 All of our volunteers are unpaid volunteers serving Nepal for the love and dedication to their motherland.
None of the above NGOs are associated or affiliated to any political organization in Nepal and form the volunteers on the ground for Sewa International – Sewa Canada, Sewa USA, Sewa UK, Sewa Australia etc.
Work has been going on round the clock at Keshav Dham reflecting the work on the ground. Everything here is about Seva (selfless service)– whether it be formal meetings or informal chat or over food (prepared and served by volunteers to feed the sevaks and the planners). Everything that is talked about or done is with a purpose to serve. Among the volunteers the discipline, the purpose , the drive and the selflessness cultivated by the training in the Hindu Swayamsevak Sangh since childhood is evident, in whatever they do. Only thing that matters is the cause, and this I found was what keeps the whole machinery well lubricated and running smoothly.
Daily briefings, meetings and feedback sessions –  in person or over the phone are organized at Keshav Dham with district team leads – to assess the situation in the ground and provide direction.
The relief provided by Sewa International's volunteers as of 26th May 2015 to victims of earthquake in districts of Kathmandu, Bhaktapur, Dhading, Kabhrepalanchok, Lalitpur, Nuwakot, Rasuwa, Ramechhap, Sindhupalchok, Dolakha, Khotang, Okhaldhunga, Makawanpur, Sindhuli, Chitwan, Syangja & Gulmi is captured below –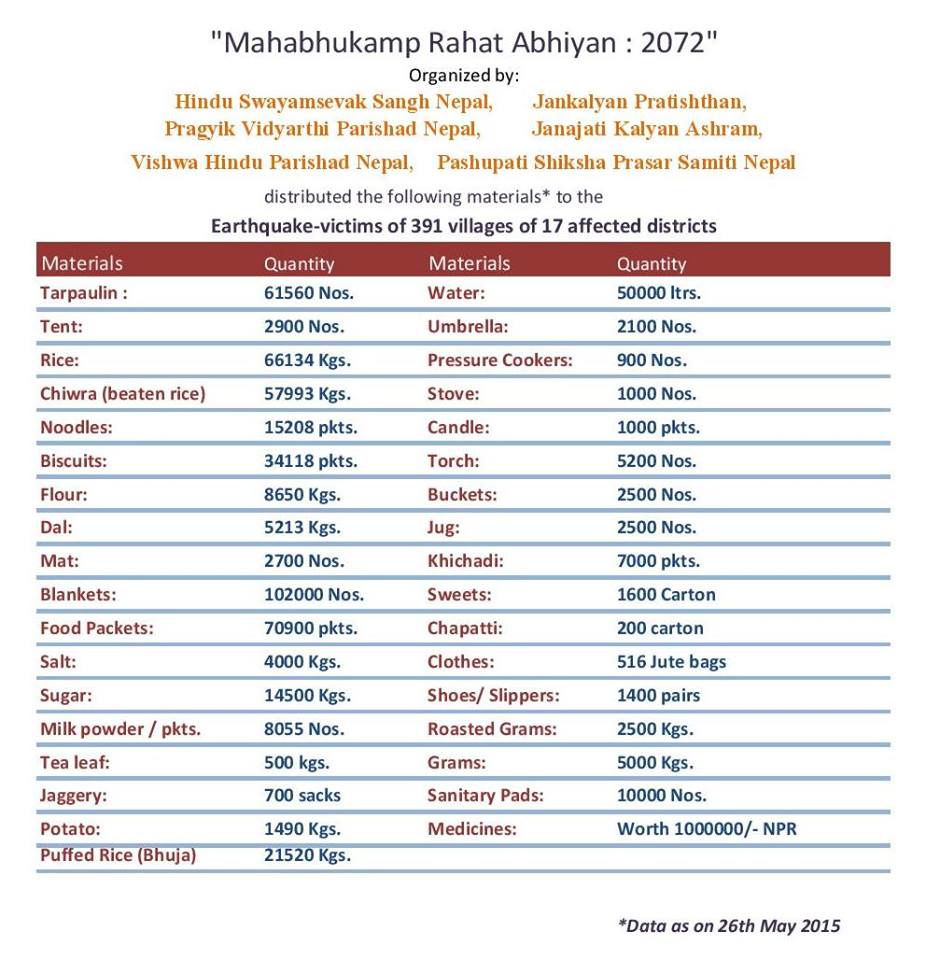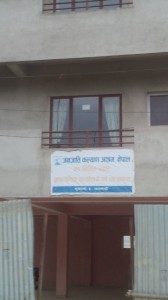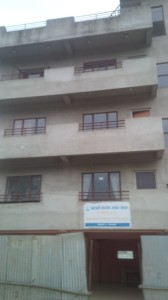 On my day of arrival in Kathmandu, we visited the Jan Jati Kalyan Ashram, that serves as a "Chhatra Vaas" or student hostel for children from remote hills and people groups who live in remote areas of Nepal. The hostel is run by Sewa International volunteers and hosts about 30 children who call it home. These children/youth spent 3 weeks outside in tents following the earthquake and have since moved back in after the building was certified by Government's building Engineers
Some minor repair work is required in the building, but again thanks to the care taken by Sewa Intenational volunteers – who run many such student hostels like this all over Nepal, the building was able to sustain two major earthquakes and daily tremors successfully.
Many of the 30 youths, mostly in their teens at this hostel have already spent many weeks serving in Earthquake effected areas. Many of them recalled their field experiences – inspiring stories of their escape during the 2nd earthquake on May 12th, the sacrifices and what they endured while serving earthquake victims in remote villages of Nepal. I was telling myself – how blessed were these youth to get such precious lessons of life – about giving selflessly, sacrifice and serving unconditionally at such an young age.
For relief activities, I was assigned to the Ramechhap district team. We left for Ramechhap early morning at 5:00am, the next day of my arrival in Kathamandu. Accompanying me were Abhichandra Pathak, a PHD student at Tribhuvan University – who is the team lead for this district. Abhi (as he is called) has been on the road serving non-stop since April 25th, far away from his home base at Pokhara. His phone goes off at average once in every 5 minutes as he coordinates the whole plan in his district. Also accompanying us is RN Dhakal, who has put his studies on hold in Finland and returned to his motherland to serve. This time Abhi is expecting a new load of 16 tonnes of relief material that has left the India-Nepal border the previous day.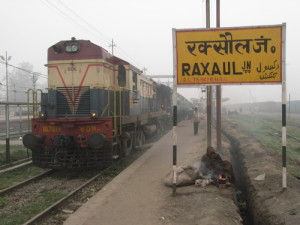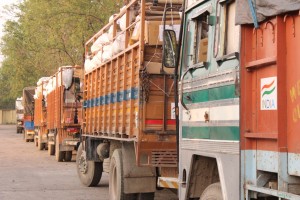 Relief material comprising  material listed in the earlier sections are shipped by Sewa International Bharat by train to Raxaul, at the Birgunj border with Nepal. At Raxaul, Sewa International's Indian and Nepalese volunteers engage in unloading their relief materials from the trains and loading them in trucks destined for Nepal.
This work has been going on round the clock for the last month. The scorching summer heat and dust storms makes this work tougher. It takes a team about a day to unload and load up a 16 tonne load onto a truck. Multiple teams ensure that multiple trucks like these are dispatched to various districts of Nepal, every day.
One of our young volunteers coordinating this work at  Raxaul, Radheshyam Senchure said "Ensuring that the work is kept going at a consistent pace in these circumstances was difficult. In a few minutes into the work, at the start of the day – we would find ourselves covered with dust, head to toe. There was also the added risk of pilferage of materials that we had to look out for, by the contract labourers between unloading from the train and loading into the truck". He added "The paper work and the logistics of getting all of this through proper customs channels required due diligence and lot of extra hours".
Once the trucks are loaded and ready to go, one of our volunteers from another team hops onto the truck to make the slow, winding and long ride accompanying the truck and materials to its destination in Nepal.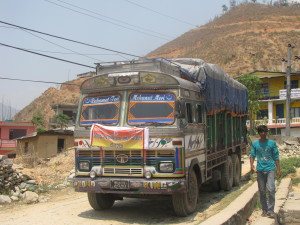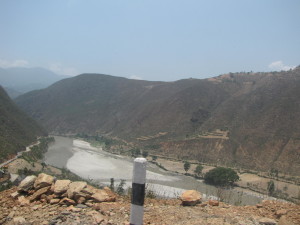 We meet up with one such truck at Khurkot, accompanied from the border by one of our young volunteers, Bishnu. The truck is a couple of hours late, due to overheating brakes on the mountainous roads, carrying a heavy load.
From Khurkot, the truck follows us through narrow winding dangerous mountain roads, by the Kosi river, a deep fall of 3000 feet on one side of the narrow road, with traffic going in both ways, barely. For our volunteers and our drivers of these trucks, this is routine, and they seem to be oblivious of the risks they take on a daily basis in this humanitarian endeavour.
Once we arrive at the town of Manthali, the district headquarters of Ramechhap district, we get required clearances from the government administration, then make another stop at the Police Headquarters to get security cover to protect relief material against potential looters. Much of this is worked ahead of time by Abhi, in coordination with authorities, ahead of time with necessary paper work and host of telephone calls. This calls for patient but persistent work. He is in fact a mobile command and control centre for Ramechhap district – so much with so little !!! Inspiration and selflessness goes a lot further than motivation and paid labour – and Abhi and Hindu Swayamsevak Sangh volunteers (volunteers of Sewa International) were definitely a prime example of this as I watched them work over four days in the field.
The task of unloading and securing 16 tonnes of relief material went on with clock like precision. It was hard back breaking work, especially the 40 Kilogram rice bags under 34 deg C temperature in the plains of Ramechhap. The material was all accounted for and stocked in a warehouse for distribution in the villages and Bastis around Ramechhap, in the coming days.
Through prior conducted surveys and field contacts, villages and Bastis (groups of low income dwellings) are identified before hand for distribution. Priority was to those who had not received any aid so far and the real needy. Abhis says " In most cases the people who demand aid, have already received some form of aid and are wanting more, while the real needy ones seldom demand aid and display real gratitude while receiving it.  This makes the work of identifying who really needs aid more challenging". Abhi also keeps away politicians who seek easy access to aid material, after our volunteers do all the hard work getting them from the source to destination. Abhi learnt this lesson early on in the game at the start of the relief work. "We prefer to deal with the people and villagers directly cutting off  vested interests and politicians who have their own axe to grind" says Abhi. Welcome to the challenging world of distribution and politics of aid – as our volunteers stick to their humanitarian aid work, in challenging circumstances. And all of this powered by pure inspiration and human spirit, a far cry from our "normal" world of ubiquitous wants and need to be compensated for everything we do.
The relief material is methodically and diligently distributed by our volunteers over the course of the next couple of days to identified villages and Bastis around Manthali.
After work in Manthali, we head for work in the remote but breathtaking mountain ranges 5000ft -6000ft up steep narrow winding dirt/stone tracks of Ramechhap district. We were told there were a pair of tremors that day too, with epicentre near the area we were in. However, we felt nothing of it, as the tremors inside our SUV were much higher on the equivalent Richter scale…LOL!!!…and in hindsight gratitude to the our supreme creator, that the tremors did not dislodge any boulders or trigger landslides as we made our slow (max 8 Km per hour) climb up the narrow steep tracks of stone and dirt. The smallest error by our driver could have take us down a 6000ft fall on the mountainside and thinking back on the fact that we even traversed this route in pitch darkness too at night, and that our volunteers did this on a daily basis, just drove my respect for these Sewa Warriors many notches higher. A drive of 26 Kms into Dadhuwa took us about 3 hours on these tracts, from the foothills near Dholakha. The scenic beauty at every corner was as good or better than the last, and just being amidst such natural splendour made the drive a breeze.
Most of the hills around us were scarred with marks of fresh landslides. As we crossed one such area, Abhi recounted how he and his team were caught up in landslides on one of the mountains we just passed. On May 12th he and his team were serving a village in the area, and later decided to visit a Mandir on the mountain side taking a break from work, when the second earthquake, 7.8 on the Richter scale struck. They were blinded by dust arising from landslides triggered in the slopes of the hills around them, when they heard cries of people below them, asking them to get to safety. They barely got to safety before landslides swept away the tracts they were on a few minutes earlier. Abhi dedicates his and team's escape to the divine grace of Bhagwan. There was nothing else to explain their escape from certain death, to live on and continue to serve their motherland.
We also distributed relief material in the remote villages of VDCs of Dhaduwa and Phulasi. The primary  requirement in these villages were for shelter. Our teams had previously brought food to these villages in weeks prior. So this time we distributed tarpaulins to provide for shelter for those sleeping out in the open. Tin sheets that were supplied were also put to good use by the villagers by erecting temporary tin shelters on the mountain sides. One such shelter (pictured below) was what we called home in these villages.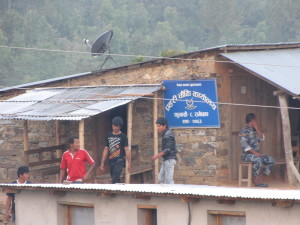 At each distribution point villagers welcomed us with warmth, welcomed us into their homes and kept us well fed and a smile on their faces. We got to interact and speak with many of them at each of these meetings.  At a village at Dadhuwa when I casually remarked to a villager, that we weren't sure where we were sleeping that night, he immediately replied that we could dine and stay at his place. He was the caretaker of the village school – a school where students of all ages from grade 1 to 12 trekked from nearby hills, in some cases crossing rivers and rope bridges. The average trek for a student was 4 Kilometres, I was told. Communicating with the Nepalese was never an issue. Even in the remote hills most if not all understood Hindi. Some of them could not talk it though and they would respond in Nepali, which I could comprehend with my intermediate knowledge of Nepali (thanks to my Bhutanese friends in Canada).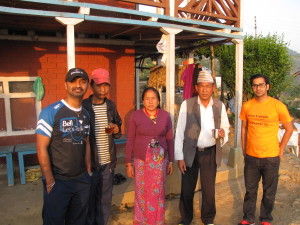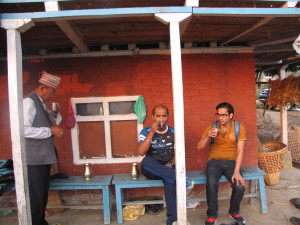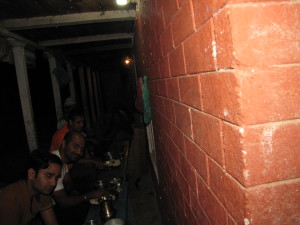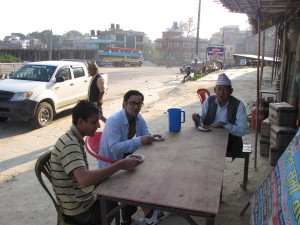 As relief work is expected to wind down soon, planning is afoot for the reconstruction stage. I attended one such day long meeting, on the penultimate day of my visit to Nepal, with all the district team leads and the Pracharaks – to brainstorm the strategy, the areas, the priorities etc depending on the location and needs of the people at that location – as needs vary in every area. . It was very evident that the Pracharaks leading the discussions were well versed with reconstruction and rebuilding activities with the field experience they have accumulated over the last many decades. Each district team has been asked to answer and submit a survey and their proposals for their respective areas – so that the HSS Nepal team and Sewa International can decided on the what, how of reconstruction and prioritize them.
At the end of the day long meeting (bhaitak), the following high level plan for reconstruction & rehabilitation was formulated.
Make provisions for the affected children by launching 'Aama Ko Maya Chhatravas' (आमाको माया छात्रावास) to provide them with food, shelter, education, sanskar etc.
To provide the students in affected areas with stationary items like books, notebooks etc. in coordination with the Government of Nepal.
To rebuild the demolished Mutts-Mandirs-Gumbas in coordination with the local committees and communities in affected areas.
On the basis of the aids received, assist the people in rehabilitation, in coordination with the Government of Nepal.
The presence of so many inspired, selfless, passionate HSS Swayamsevaks (Sewa's volunteers) at Keshav Dham, who had given everything  they had and risked their lives serving from the border with China to the suburbs of Kathmandu, for the last one month, was a bonus for me. Each of them were inspirational, happy and loved what they did.  All of them had exceptional stories, each one of them mirrored the courage and resilience of the very people they had served. For me they offered a whole lot of lessons of life, that night. The earth shook again at 10:30pm as we were getting ready to end the night. There was commotion in the streets as people flowed out into it from nearby buildings. At Keshav Dham, none of us even bothered to leave our rooms. Next day morning we heard that an entire mountainside had slid into a river, blocking it and endangering the lives of people upstream and downstream.
A visit to Nepal is not complete without a visit to the legendary Sri Pashupatinath ji Mandir in the heart of Kathmandu. The temple has survived all the quakes and tremors. The Aarti and the energy at this beautiful ancient Mandir was really special. It was the most rocking Aarti I ever attended, that included dancing in devotion.  Accompanied by other volunteers during an early morning visit, we spent some time in reflection and meditation at the Mandir, on the banks of the Bagmati river. There was a lot of gratitude owed and blessings required for all of us, for being able to serve Nepal and for the long haul ahead of rebuilding it i.e. to help Nepal rise.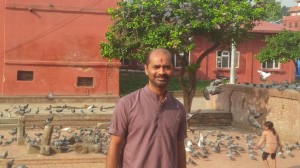 The challenges are going to be significant and the rebuilding is going to be a long haul, once the ongoing tremors settle down in due course – anywhere between 6 to 10 years, as per many people on the ground. The oncoming monsoon season is expected to trigger fresh landslides on hillsides already impacted and loosened up by the quakes. This could potentially cut access to remote villages.
As I was checking in for my outbound flight to Mumbai, at the Kathmandu Airport, I experienced my last tremor of the trip, another under 5 one. How many more of these or worse bigger ones would this beautiful land and its courageous people need to endure, before Mother Earth settles down in this part of the world?
Approximately 95% of the passengers on the Jet Airways flight to Mumbai, consisted of Nepali youth bound for jobs in the Middle East. The rest were foreign aid workers – all of them Indian, including a group from Khalsa Aid. The youth sitting next to me Mohan, was 22, leaving home for the first time, half-worried, half-guilty, that he was leaving his parents and siblings back in Kathmandu under a temporary shelter for now. But he had to leave, so that he could earn some money in Doha, Qatar – to be able to hopefully repair his home here and make it safe to live in. He was leaving to return for a better tomorrow for his family, like many other youth on the plane. Young Uma from Sindhupalchok, in Nepal was headed to work in Erbil, in dangerous Northern Iraq, with her family living under a tent, leaving with hope to rebuild her home for her family. She explained all of this to me, without forgetting to smile even for a split second. Many such Nepalis have taken it on themselves to rebuild their homes and lives.
As the aircraft made its ascent above and out of the Kathmandu Valley, into the clouds over it, I realised that I was leaving with mixed feelings of Hope, Inspiration & a heavy heart. For, I had experienced so much hospitality, generosity, cheer, courage and resilience of the people, amongst devastation. This ancient beautiful land of Sri Pashupathinath ji, Gautama Buddha, the fearless Gorkhas and the towering Sagar Mata (Mount Everest) was special. Little wonder it was never ever colonized. It will rise from this too and we will help it rise, as we move into re-construction phase in a few weeks from now.