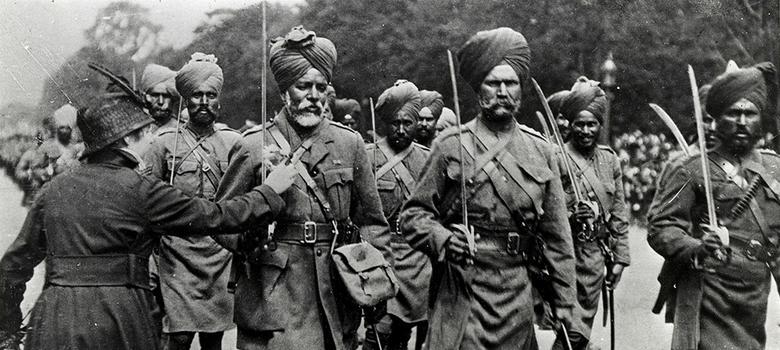 Indian Army Corps Soldiers in France during World War I
Update @July 2oth – Currently pending signing of agreement with City of London.
How many of us know or even remember that 1.3 Million Indian Soldiers fought for the Allies in World War 1 ? How many Canadians or Indo-Canadians, including  our own children know that India contributed more soldiers than all the other British Allies combined ? How many of us even know that 60,000 Indian soldiers died fighting a war that they had nothing to do with ? How many of us know that India's total contribution to World War I was approximately 100 Million Pounds Sterling, 100 year ago ? How many of us know that Indian troops fought in Europe, held Vimy Ridge briefly in 1915 (2 years before the Canadians), Africa, Mesopotamia, Palestine, the Middle East, Africa and China, during World War I?  How many of us know that Indian troops won 11 Victoria Crosses, the highest among British Allies during World War I?
Britain declared war on Germany on 4th August 1914. Four days later two infantry divisions and a cavalry brigades of the Indian Army were ordered to mobilize. With in 6 weeks, Indian soldiers began to arrive in Europe and were thrown into the first battle of Ypres in October. Within a month they had won their first Victoria Cross. 23 Indian infantry battalions and 14 Indian Cavalry regiments served on the Western Front in Europe.
In its 100th year anniversary, we are leading an effort by the entire Indo-Canadian community in London, ON to pay homage to these forgotten soldiers of the Great War. These soldiers belonged to Regiments from all over undivided India – Sikhs, Punjabis, Marathas, Gurkhas, Rajputs, Dogras, Baluchis, Madras, Garhwal, Jat, Deccan…to name a few.
In partnership with Trees for Parkway Inc and the City of London, we will lead an effort to fund and plant 108 Trees as a Memorial for these soldiers, near Veteran's Memorial Parkway…. Lest we forget – their great sacrifices for our freedom.
The target date for launch of this memorial is October 2017.  The planning has commenced and we will be conducting information sessions and reaching out to different communities to bring them together to contribute and complete this memorial for the entire Ind-Canadian community in London, ON