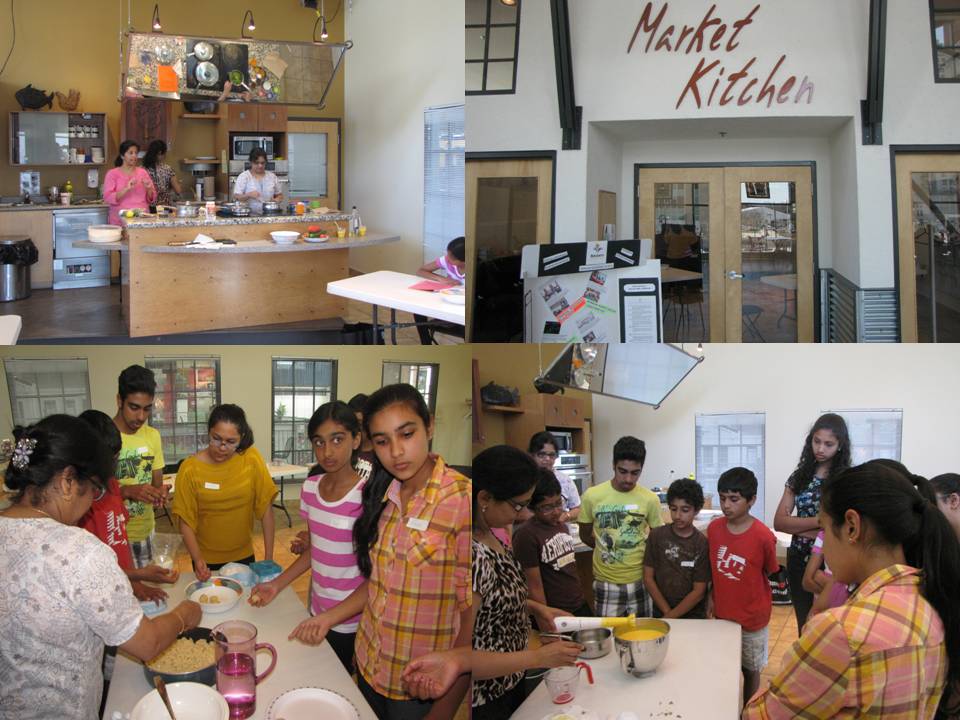 For  pictures from the inaugural session on May 10th 2014 –  Click HERE
For pictures from the second session on June 14th 2014 – Click HERE
Would you or your children like to learn to cook Indian Cuisine in a fun environment ?
Srishti introduces monthly cooking classes @ at the Market Kitchen.
Next Session – TBA shortly
Food and cuisine are a distinct and important part of every culture.  Indian cuisine from different regions of India offers a mouth watering diversity that is worth preserving and passing on. Srishti's Young Chef Academy intends to do just this – passing on this part of our culture to the next generation, and developing a passion for this art among them, in an age when many fear the art of cooking is being lost slowly.
This  program is conducted once a month at a fully equipped kitchen, at the Covent Garden Market, under the expert guidance of Mrs. Anitha Prakash. To ensure quality of the program each session will be limited to 10 participants. There is no limit to the number of sessions, that a given participant can attend.
To cover rental cost of kitchen, cost of ingredients, and make the program sustainable, there is a fee of $20 per participant per session (payable at the venue by cash or cheque). Food samples are taken home by participants.
The program in a fun learning environment will explore various menus from all over India including snacks, appetizers, main courses and desserts. Mrs Anitha Prakash's passion for cooking is well known in the community and she has been on cooking demonstrations on local TV too. She also ran a successful food outlet at the Market a few years ago.
Later this fall participants will have an opportunity to participate in a cooking competition, on the lines of the reality TV cooking shows like the "Master Chef".
We also welcome volunteers who would like to help out with setup, cleanup and general help during these monthly sessions. Please email us at srishti.canada@gmail.com if you wish to volunteer at this event.
Spots are limited for participants to 10 per each session, to ensure quality of the program. Hence we recommend those interested, to register themselves or their children at the earliest, to ensure themselves of a spot at these monthly sessions.
Register Here to enroll in this program.